The 2022 Subaru Love Promise Community Commitment Award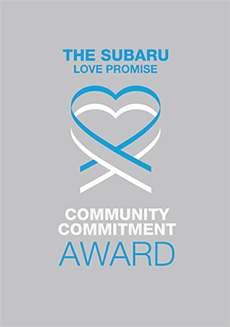 We've been nationally recognized for our dedication to our community and the Subaru Love Promise.
We're honored to receive the 2022 Subaru Love Promise Community Commitment Award. This award nationally recognizes Subaru retailers who are making the world a better place while demonstrating an outstanding commitment to supporting passions and causes in local communities. These efforts are focused in important areas such as the environment, community, health, education, and pets.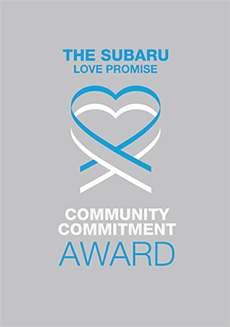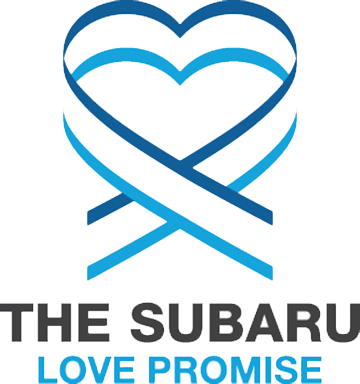 What is the Subaru Love Promise?
Subaru and our retailers believe in making the world a better place and the Subaru Love Promise is our vision of respecting all people. This is our commitment to show love and respect to our customers and to work to make a positive impact in the world.
How is Bergstrom Subaru of Oshkosh dedicated locally to the Love Promise?
Our Love Promise can be seen in various partnerships with local charities and non-profits. We're grateful for the opportunity, not only to be a part of our community, but to serve it as well.
Oshkosh Area Humane Society
Susan G. Komen Drive for the Cure
Love Promise Stories from Bergstrom Subaru of Oshkosh
Subaru and Bergstrom Subaru of Oshkosh believe in making a positive impact on the communities in which we live and work. We uphold that belief through our Love Promise Community Commitment. Every month, we select inspiring stories from customers and partners from around our area who strive to support our collective commitment and feature them here
Bergstrom Subaru Shares the Love with BGC Oshkosh - Jessica C
Bergstrom Subaru Shared the Love with Boys & Girls Club of Oshkosh when they presented us with a generous donation to help improve the lives of children and families in Oshkosh. The Club offers a dynamic learning environment that includes age-appropriate programs, mentoring by caring adult professionals and outstanding facilities, all for an annual fee of only $25 per child. In addition to the clubhouses, and Camp Radford, the Boys & Girls Club also provides after-school care at four elementary schools and six community learning centers. In the last two years we opened another site for summer at Peace Lutheran and an after-school care site in Omro to serve more kids that were on our waiting list. Because of wonderful donors like you, the Boys & Girls Club of Oshkosh can continue to meet the critical needs of Children. Our kids are able to benefit every day from the healthy meals and snacks we have been able to provide them. We provide programming that ensures children and families feel supported and thrive in their community to help break the cycle of poverty. Once virtual learning with our members ended in 2021, we added 4 new sites for children in need. In the Oshkosh Area School District, we opened an after-school program for South Park Middle School and North High School and added a staff member for our Be Great Graduate mentoring program at West High School. Completely new is our site for the Omro School District for their elementary school where we enrolled 50 new members in Fall. While adding sites is always amazing for the kids you support, we also added bus routes to get kids from full after-school care sites at Read, Jefferson, Merrill, Oaklawn Elementary, Perry Tipler, Merrill and Webster Middle School and West High School. Transportation allows another 110 kids to get services at the Club each week. With all these new ways to serve kids we increased our average daily attendance by about 70%. The Club was also able to add new staff members for new programs including: Katrina Gesell, our Director of Omro, is at our newest site located at Omro Elementary School for another 70 kids who need after school services. Caitlin Cheslock, our Director of Social Emotional Wellness, coordinates programming for all members related to positive behaviors, mindfulness, social skills and appropriate relationships, and healthy expression of emotions. She also helps staff to come up with better plans for kids who exhibit behavioral challenges and is in charge of our behavioral management program. Jay Gibson, our Big Futures Mentoring Coordinator, heads our Big Future Mentoring program, a collaborative effort of the Club and Big Brothers Big Sisters of East Central Wisconsin which matches adult mentors with youth in 6th through 8th grade at the Boys & Girls Club. Goal of youth staying in the program until they graduate from high school and go on to the workforce or higher education. The program focuses on helping youth grow academically and develop decision-making and life skills. Youth will meet mentors at the Club, where they will get homework help, read together, learn to cook together and get access to all Club spaces and programs. This program allows the Club to go from 30 middle school mentees to 70 middle school mentees! Other new programs that you help make happen include: •Parent Classes with Head Start. These classes are for parents we serve that use our basic needs services to help give them some new skills as well as engage the partners we want to bring into the new community center space. • Partnering with the YMCA to have teens participate in workouts and gym time during the summer. • Partnering with the Oshkosh Police Department to have officers come and spend time with our members to build positive relationships as well as read to kids in partnership with the Oshkosh Noon Kiwanis • Junior Achievement Partnership to teach financial literacy for our 5th and 6th graders during summer and a visit to their new reality store for our 8th – 12th grade students. Finally, we unveiled the exciting news of the Club's plans to expand and remodel the building, located at 501 E. Parkway. These plans include a new community center space, gym and green space. The Club will be able to serve an additional 150 children with the completion. The community center will allow area organizations to come together to better service families in Oshkosh. All of these amazing things are able to happen because of the support you give the Club. Thank you for helping youth to build great futures!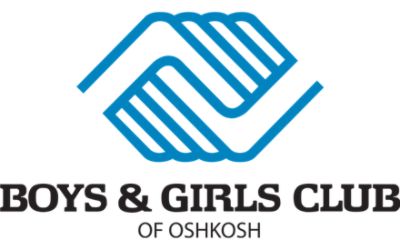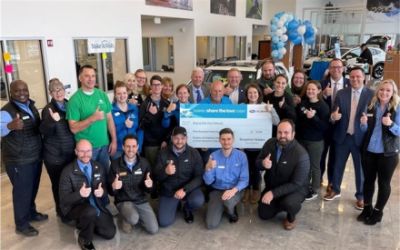 ---
Enhancing Classroom Education for Youth - Carey H
Our teachers at Valley Christian School are always looking for creative ways to make education in the classroom more interesting and interactive. Thanks to your grant, 6 of our teachers were able to acquire a wide variety of teaching tools to make learning fun. A lot of focus has been on STEM in recent years and many of the items we received will enhance education in that area. Some of the things we received included: math manipulatives and curriculum enhancers, STEM building sets, Geometric building sets, math games to help master our math facts and make the process more appealing to students so they are eager to learn and play the games, some guided reading books to help all levels of abilities, transparent reading strips to help kid's eyes focus as they read, science kits for on hands learning by creating a variety of models such as wind turbines, simple machines and electromagnets, materials to help kids learn how to be organized and how to gather materials independently to complete projects, equipment to help kids create their own games for reviewing concepts and much more. These are just a few examples of manipulatives and tools we received to enhance the learning environment in our classrooms. Our teachers love to incorporate innovative ways to make learning more interactive rather than kids always passively listening to the teachers convey the material they need to learn and this grant helps to make it possible. It is wonderful to see your organization helping so many different places with these grants. Because of this, the quality of life for the people who benefit from all of these organizations is greatly enhanced.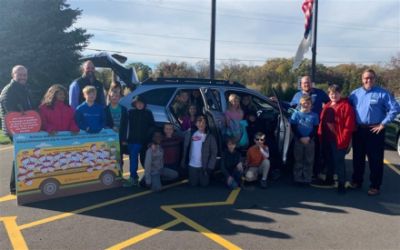 ---
CARE TO SHARE - John N
Love the crew at Subaru. Received a phone call from Brad.' WE ARE ON BOARD AGAIN THIS YEAR" Then three energetic guys came to our Mother Teresa Center and delivered some warm and cozy blankets for our Family Holiday event - just like they did last year. This year they added some warm socks and also did a collection for our food pantry. They went above and beyond for us, for the families in need during the Holidays. Because of their caring nature - they reach out and share to those in need. God Bless their Efforts!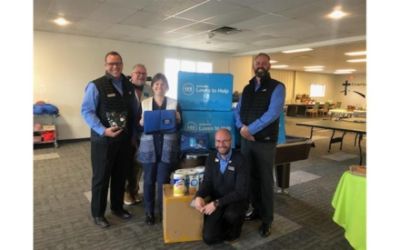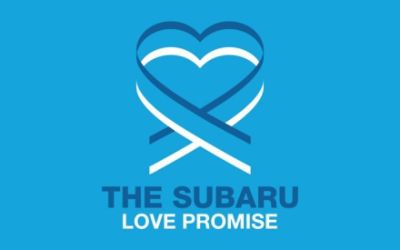 ---
Molt & Plume: Husky Brothers - Ellen P
On August 16th, 2021 a kind Samaritan noticed two handsome huskies sharing a pizza out of the trash can of a local restaurant and thought they could use some help finding their way home. The fuzzy dogs were brought to the Neenah Animal Shelter to be scanned for microchips and posted on our Facebook page. Staff thought the seniors would be reunited with their family within a few hours, but unfortunately the days ticked by with no response from their family ever came. Once the state mandatory stray hold period of 4 days was complete, the huskies were examined by a veterinarian which put their estimated age at over 10 years old. Molt, the white boy, has a large benign mass on his elbow and weak hips. Both dogs were in desperate need of a dental cleaning and some extractions too. They received the medical treatment they needed and a good grooming. Plume and Molt waited and waited for their forever family to find them. In the meantime, they taught every dog in the shelter how to howl in harmony when they weren't in the play yard basking in the sun. Finally, an application came through during the Subaru Loves Dogs Event for them that sounded like an ideal fit! A single person with a female senior husky was looking to expand their family by 8 furry paws! October 16th, exactly two months after intake, Plume and Molt headed home! A few weeks later, we received the below update from the boys. "As you can see from the attached pictures, we are setting nicely into our forever home. Mom changed our names to Ice (Molt) and Sky (Plume). She says our names a LOT, so we are getting used to them. Mom takes each of us separately on two walks a day. We love taking walks and being outside! However, we do not like it when Mom takes one of us alone on a walk. We don't like being without each other (or our sister now), so we howl loudly at the front bay window until she returns. We imagine that it has been pretty quiet there at the shelter without us for the past two weeks. Between the barking and the howling at night, Mom is not getting much sleep. She is adjusting, though, and every day we are becoming more like a family! Thank you to all our friends at the Neenah Animal Shelter! We miss you, but do not want to come back. We are very happy where we are! Love,Ice (Molt) and Sky (Plume)"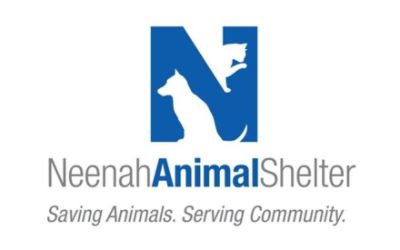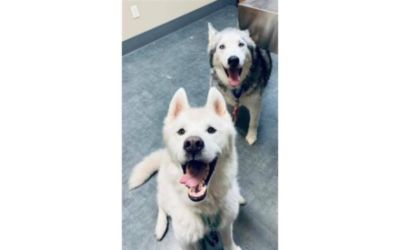 ---
Subaru Loves to Care - Jennifer S
Subaru of America, Inc. continued its longtime partnership with The Leukemia & Lymphoma Society (LLS) for the sixth consecutive year to send love, hope and warmth to patients battling cancer during Subaru Loves to Care month in June. As part of the partnership, Bergstrom Subaru and a record 606 participating Subaru retailers nationwide supported more than 40,000 blood cancer patients by mailing blankets and messages of hope, handwritten with love and care by Subaru retailers and customers, directly to patients' homes. Visitors to Bergstrom Subaru retailers were given the opportunity to write personalized messages of support to cancer patients in their local communities. Our local LLS Upper Plains Region couldn't be more thankful for Bergstrom Subaru coming alongside our patients in such a tangible and comforting way during cancer treatment! Survivor Kaleb and his family says it best below: Subaru Partners— Thank you all for the support you have given to our son, Kaleb, who was diagnosed with AML in January of 2020. Our family has received help through the LLS Travel Assistance program and the Urgent Need program. These two have helped out our family tremendously. Not only for travel cost, but not having the burden to worry about other costs associated with having a child in the hospital for six months and ongoing appointments after that for follow-up. Your support and generosity is appreciated more than you will ever know. We are so blessed to have organizations like yours to help families like us. Thank you from the bottom of our hearts! Dave, Cassandra, Kaleb, and Alayna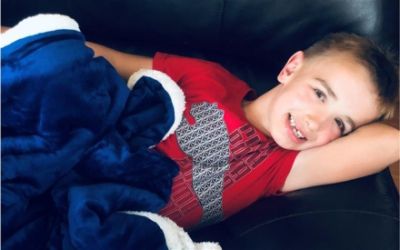 ---
Dorian - The Dog That Went Viral! - Cindy F
Dorian, an 8-month old pup, arrived at the Neenah Animal Shelter in early February, 2021 with a "hitch in his giddy-up." It was quickly discovered he had not one, but two fractured tibias on his rear legs. No one knows what kind of pup antics caused the fractures, but it was clear he needed surgery to ensure proper healing. A call was put out to the community to fund Dorian's $5,000+ surgery. NBC26 and a local radio station picked up his story. Dorian captured hearts and in less than three days generous donors raised over $7,000 to ensure Dorian's future as an energetic, playful pup. (Funds raised in excess of the needed $5,000 have been designated to Help Me Heal for other animals with extraordinary, second chance needs.) We can never anticipate what level of care any particular animal will need when they come to our shelter, but our LifeFirst Philosophy is a commitment to never euthanize any animal because of lack of space or funding. That means we depend on the generosity of our community to help fund extraordinary medical care costs. Bergstrom Subaru of Oshkosh is a valued member of our community. Recently their Love Promise provided a $15,700+ award to the Neenah Animal Shelter to ensure we can care for other animals like Dorian that come through our door regardless of their special needs. Dorian has been a champ throughout his ordeal and soon he'll be looking forward to running at full speed into the arms of his forever family. Submitted by: Cindy Flauger, NAS Executive Director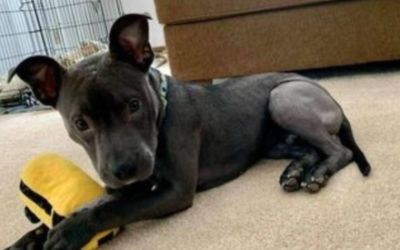 ---
Subaru Loves to Care - John N
Do you know what a great feeling it is to have a company reach out to you with a great donation? Brad and some team representatives from Bergstrom Subaru Oshkosh did just that and their donation of care blankets really made a difference here at Father Carr's Place 2 B. It was not only their generous donation of blankets to our shelter but the personal touch they brought along with it. A great crew came to deliver them and they stopped and spoke to our volunteers and thanked them for the work they do in our community. Even John Begrstrom came and thanked us for all the good that is done by Father Carr's. We rely on volunteers and donors to do our mission and Bergstrom Subaru reinforced that Spirit of Teamwork = THANK YOU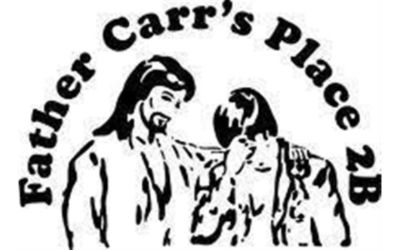 ---
Clear the Shelter in Time for the Holidays! - Cindy F
Bernie and Rusty Roy, 15-year old senior cats were surrendered to Neenah Animal Shelter (NAS) after their owner passed away. They are a bonded pair. We were concerned they would have an extended stay at the shelter due to their age, Rusty's timid personality, and the preference to be adopted together. Around the same time as their arrival, a previous (NAS) adopter with an older cat with a vision impairment offered to open up her home as a foster. When she learned about the bonded pair she agreed to foster them together. When she came to the shelter to pick them up she immediately changed her mind about fostering. Instead, she moved straight to ADOPTION, guaranteeing Bernie and Rusty the permanency they so deserve. In her words: "NAS has come through in the past for us, matching us with exactly what we need and the animal needs." In response to the request to consider fostering the bonded pair, "I have decided after much thought that God is teaching me that I do not think large enough; that if two brothers need a foster home after such a traumatic event as a death, we can at least try to make it work." Post adoption follow-up: "Once I met them I could not do anything other than adopt Bernie and Rusty. They are lovely cats who are surprising me every moment of every day. Thank you for trusting me with their care." Jan F., Adopter A happy ending like this just isn't possible without the grant from the ASPCA, the partnership with our local retailer - Bergstrom Subaru of Oshkosh, and caring community members with huge hearts! Cindy F., NAS Executive Director
---
Spaying and Neutering Saves Lives - Jennifer O
The Oshkosh Area Humane Society (OAHS) received a very generous award to support the spaying/neutering of animals. Spaying and neutering not only prevents unwanted litters and reduces the homeless animal population but it also has health benefits. Sometimes "fixing" an animal actually saves their life. Like Applesauce. Applesauce was a young female cat that was brought to OAHS as a stray. A day after she arrived, she was lethargic with a fever and it was apparent something was very wrong internally. Staff suspected pyometra, an infection of the uterus that, if not treated with surgery, is often fatal. Applesauce made it through surgery and is now in a loving home with a new family!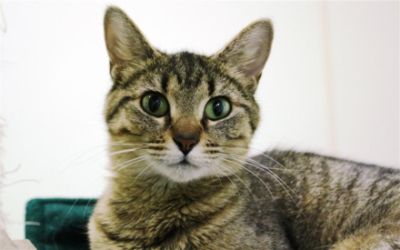 ---
Subaru Loves Learning - Brad M
On October 19, 2019 the students at Traeger Elementary and Middle school were presented with a book donation from Subaru and its partner the American Association of the Advancement of Science. There were 150 books, chosen by the teaching staff to help enrich their current programs. Bergstrom Subaru also donated essential school supplies for students needing them throughout the school year. There were many smiles by all!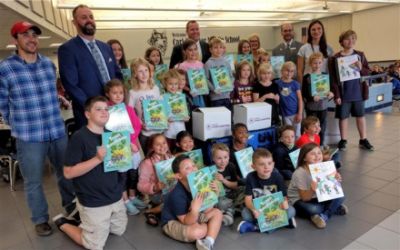 ---