The 2021 Subaru Love Promise Community Commitment Award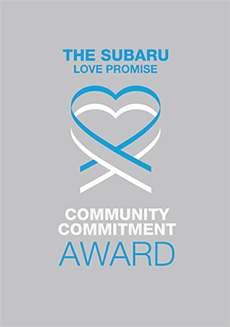 We've been nationally recognized for our dedication to our community and the Subaru Love Promise.
We're honored to receive the 2021 Subaru Love Promise Community Commitment Award. This award nationally recognizes Subaru retailers who are making the world a better place while demonstrating an outstanding commitment to supporting passions and causes in local communities. These efforts are focused in important areas such as the environment, community, health, education, and pets.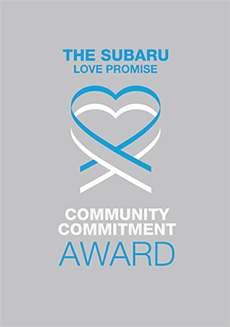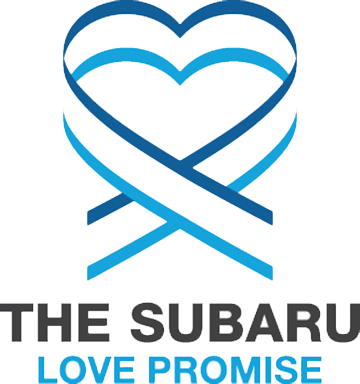 What is the Subaru Love Promise?
Subaru and our retailers believe in making the world a better place and the Subaru Love Promise is our vision of respecting all people. This is our commitment to show love and respect to our customers and to work to make a positive impact in the world.
How is Bergstrom Subaru of Oshkosh dedicated locally to the Love Promise?
Our Love Promise can be seen in various partnerships with local charities and non-profits. We're grateful for the opportunity, not only to be a part of our community, but to serve it as well.
Oshkosh Area Humane Society
Susan G. Komen Drive for the Cure
Love Promise Stories from Bergstrom Subaru of Oshkosh
Subaru and Bergstrom Subaru of Oshkosh believe in making a positive impact on the communities in which we live and work. We uphold that belief through our Love Promise Community Commitment. Every month, we select inspiring stories from customers and partners from around our area who strive to support our collective commitment and feature them here
Dorian - The Dog That Went Viral! - Cindy F
Dorian, an 8-month old pup, arrived at the Neenah Animal Shelter in early February, 2021 with a "hitch in his giddy-up." It was quickly discovered he had not one, but two fractured tibias on his rear legs. No one knows what kind of pup antics caused the fractures, but it was clear he needed surgery to ensure proper healing. A call was put out to the community to fund Dorian's $5,000+ surgery. NBC26 and a local radio station picked up his story. Dorian captured hearts and in less than three days generous donors raised over $7,000 to ensure Dorian's future as an energetic, playful pup. (Funds raised in excess of the needed $5,000 have been designated to Help Me Heal for other animals with extraordinary, second chance needs.) We can never anticipate what level of care any particular animal will need when they come to our shelter, but our LifeFirst Philosophy is a commitment to never euthanize any animal because of lack of space or funding. That means we depend on the generosity of our community to help fund extraordinary medical care costs. Bergstrom Subaru of Oshkosh is a valued member of our community. Recently their Love Promise provided a $15,700+ award to the Neenah Animal Shelter to ensure we can care for other animals like Dorian that come through our door regardless of their special needs. Dorian has been a champ throughout his ordeal and soon he'll be looking forward to running at full speed into the arms of his forever family. Submitted by: Cindy Flauger, NAS Executive Director
---
Subaru Loves to Care - John N
Do you know what a great feeling it is to have a company reach out to you with a great donation? Brad and some team representatives from Bergstrom Subaru Oshkosh did just that and their donation of care blankets really made a difference here at Father Carr's Place 2 B. It was not only their generous donation of blankets to our shelter but the personal touch they brought along with it. A great crew came to deliver them and they stopped and spoke to our volunteers and thanked them for the work they do in our community. Even John Begrstrom came and thanked us for all the good that is done by Father Carr's. We rely on volunteers and donors to do our mission and Bergstrom Subaru reinforced that Spirit of Teamwork = THANK YOU
---
Clear the Shelter in Time for the Holidays! - Cindy F
Bernie and Rusty Roy, 15-year old senior cats were surrendered to Neenah Animal Shelter (NAS) after their owner passed away. They are a bonded pair. We were concerned they would have an extended stay at the shelter due to their age, Rusty's timid personality, and the preference to be adopted together. Around the same time as their arrival, a previous (NAS) adopter with an older cat with a vision impairment offered to open up her home as a foster. When she learned about the bonded pair she agreed to foster them together. When she came to the shelter to pick them up she immediately changed her mind about fostering. Instead, she moved straight to ADOPTION, guaranteeing Bernie and Rusty the permanency they so deserve. In her words: "NAS has come through in the past for us, matching us with exactly what we need and the animal needs." In response to the request to consider fostering the bonded pair, "I have decided after much thought that God is teaching me that I do not think large enough; that if two brothers need a foster home after such a traumatic event as a death, we can at least try to make it work." Post adoption follow-up: "Once I met them I could not do anything other than adopt Bernie and Rusty. They are lovely cats who are surprising me every moment of every day. Thank you for trusting me with their care." Jan F., Adopter A happy ending like this just isn't possible without the grant from the ASPCA, the partnership with our local retailer - Bergstrom Subaru of Oshkosh, and caring community members with huge hearts! Cindy F., NAS Executive Director
---
Spaying and Neutering Saves Lives - Jennifer O
The Oshkosh Area Humane Society (OAHS) received a very generous award to support the spaying/neutering of animals. Spaying and neutering not only prevents unwanted litters and reduces the homeless animal population but it also has health benefits. Sometimes "fixing" an animal actually saves their life. Like Applesauce. Applesauce was a young female cat that was brought to OAHS as a stray. A day after she arrived, she was lethargic with a fever and it was apparent something was very wrong internally. Staff suspected pyometra, an infection of the uterus that, if not treated with surgery, is often fatal. Applesauce made it through surgery and is now in a loving home with a new family!
---
Subaru Loves Learning - Brad M
On October 19, 2019 the students at Traeger Elementary and Middle school were presented with a book donation from Subaru and its partner the American Association of the Advancement of Science. There were 150 books, chosen by the teaching staff to help enrich their current programs. Bergstrom Subaru also donated essential school supplies for students needing them throughout the school year. There were many smiles by all!
---
Subaru Loves Pets! - Kay P
Almost five years ago we were invited to attend the Subaru Loves Dogs event sponsored by the Bergstrom Subaru of Oshkosh dealership. Little did we know but this was the beginning of a great friendship and partnership for the Neenah Animal Shelter. Each year Bergstrom Subaru provides us with opportunities to showcase some of our adoptable dogs and make people aware of the Neenah Animal Shelter and our "Life First Mission" for the animals. This "Life First Mission states that we will never euthanize any adoptable animal due to lack of space or funding, but that we will save, restore and rehome all adoptable animals." When we were picked as the local charity for the Subaru "Share the Love" event last year, we were presented with a check for over $21,000 to help us carry out this mission for our animals and community. Two of the animals we were able to help were Primrose, a one year old female dog, and Timothy, a young male cat. Primrose came to the shelter with some very angry, raw looking skin. She constantly scratched, resulting in severe hair loss and very painful skin. After a trip to the vet she was diagnosed with demodex mange and scabies. Scabies are very contagious to both humans and other animals, so Primrose needed to be separated from other animals during her treatment. The treatment involved medications and special baths, taking over two months to complete. Since she was separated from other animals, it also meant a lot of one on one staff interaction to give her the attention she required to remain happy and socialized. Timothy the cat came to the shelter in very bad condition. He was immediately seen by a local vet, where they found he had a severely fractured hind leg with a protruding bone, a crushed tail, metal fragments in his body (possible gun shot) and a bad upper respiratory infection. Doctors provided immediate care to stabilize his condition. Unfortunately Timothy needed both his leg and tail amputated to save his life. After great medical care from the vets and time in a loving foster home, Timothy recovered and was ready for adoption. Because of the support we received from Bergstrom Subaru of Oshkosh and the Subaru company, these two animals and many more were given a chance at a happy life. Subaru truly loves Pets!
---
Bergstrom Subaru Delivers Hope - Karen R
On Tuesday, July 23, 2019, Bergstrom Subaru and The Leukemia & Lymphoma Society (LLS) helped brightened patients days at the Vince Lombardi Cancer Clinic in Oshkosh, Wisconsin. Volunteers, Morgan, Tip and Dayton, joined the staff from Bergstrom and LLS to delivery 80 blankets to patients at the Aurora BayCare Vince Lombardi Cancer Clinic. The staff were thrilled to receive this generous donation through Subaru Loves to Care and were excited to distribute the blankets and care cards to patients in treatment. This is the 4th year Bergstrom has made this generous gift to patients in the Oshkosh community! We are truly grateful for their partnership in the cancer community.
---
Subaru Loves Learning - Steven H
What a wonderful surprise it was for our school to receive such an amazing gift from our local Subaru dealership. We received hundreds of books all geared toward learning more about science. These books are already being shared with our students in the classrooms and are having a positive impact on student learning. Our students and teachers greatly appreciate this wonderful gift. Our students will enjoy these books for years to come. We also received backpacks and student supplies together with all of the books that we were able to pass on to some of our students who truly needed them. Thanks again!
---
Bergstrom Helps Bring Comfort to Cancer Patients - Megan K
In the middle of a hot and sticky summer, Bergstrom Subaru partnered with the Leukemia and Lymphoma Society to bring relief to patients at Aurora Health Care's Vince Lombardi Cancer Center in Oshkosh. This is the third year of this amazing partnership. Representatives from the Subaru of Oshkosh handed blankets and words of hope to the staff of the cancer center to be distributed to patients receiving treatment. In spite of the heat and humidity, those receiving treatments are often chilly and in need of comfort. The knowledge that there is such a compassionate partner in their community brings another sense of relief to the patients. We are incredibly lucky to be able to join Bergstrom Subaru in showing those who are facing the gauntlet of cancer treatment that there is a multitude of support behind them.
---
Bergstrom shares love and warmth to cancer center - Naomi G
The Leukemia & Lymphoma Society is honored to partner for a second time with Bergstrom Subaru for the month of June to bring hope and warmth to local cancer patient at Fox Valley Hematology & Oncology (FVHO) in Oshkosh, WI. Josh went above and beyond to personally deliver blankets to cancer patients sitting in the infusion room, the morning of the delivery. Karen and Sandy were extremely grateful for the blankets. Cathy, FVHO clinic manager said "Patients are loving the blankets! Thank you for this generous gift."
---
Subaru shares the Love with Rayne. - Kay P
This year the Neenah Animal Shelter was privileged to be selected as the local charity by the Bergstrom Subaru team for the Share the Love Event. Earlier this month we were presented with a check for over $12, 700.00. For a small shelter this was very important in supporting our "LifeFirst" Mission which states that no adoptable animal will be euthanized due to lack of space or funding. As a shelter we take in many older animals and often they come with medical problems as well. A great example of the work we do is Rayne, a 10 year old Malamute mix. She came to us with severe hair loss and infested with fleas. After the flea problem was treated and the hair loss continued, Rayne went through testing and was diagnosed with Cushings Disease. A treatment plan was put in place to find the correct dosage of medicine to treat her disease. After diligent treatment from a loving staff, Rayne's hair grew back in and she became a favorite with the staff and volunteers,. It took an extended stay at the shelter but Rayne is now in a loving home and enjoying life with human family and cat buddy. The support from our community, from Bergstrom Subaru of Oshkosh and most of all the generosity of the Subaru Company to fund this program makes a world of difference to our animals and the great families who get to adopt them. Thank you so much for supporting our shelter and our life saving mission.
---
Kidsafe - Grant K
Bergstrom Subaru, Oshkosh Police Department, and Operation Kidsafe came together to help keep kids safe! We had a station set up where kids could be finger printed and put into a national database.
---
Where Love Meets Hope - Grant K
At Bergstrom Subaru of Oshkosh we had an event where our staff teamed up with The Leukemia & Lymphoma Society and Fox Valley Hematology to spread hope and joy to children in the area battling cancer. Over the course of three weeks, our staff and guests filled out messages of hope to be displayed at Fox Valley Hematology in Oshkosh. In addition, we donated 20 boxes of blankets to keep them warm through their treatments while they fight cancer.
---
Kanga From Kenya... - Gail D
A guest bought a Subaru Crosstrek from our store in December. He really wanted the Hyper Blue and we were happy to get that for him. The guest went on a mission trip to Kenya prior to picking up his new Crosstrek. While in Kenya he bought a gift for Gail Dix, his sales consultant. The gift was a handmade scarf, or Kanga in the same color as their Crosstrek.
---